Family Winter Fun Tour
Event Info
 
The 5km fun tour officially begins promptly at 11:00am but given this is a "for the fun and health of it" Tour you really can pretty much get started early...late...whatever you like -- just get out there for fun and health! We do ask that you please pre-register for the Tour if you are starting before we open day-of registration.
The optional Ski Your Age challenge is included with regular Tour registration. Adults and kids aiming for Ski Your Age in Minutes obviously know how long things will take. For kids tackling Ski Your Age in Kilometers typically an hour is plenty of time.
For adults taking on the more ambitious Ski Your Age in Kilometers challenge, you should schedule your day based on your average easy pace per kilometer. For example, a 50 year old racer will likely take between 2-4 hours to ski 50km on a gentle course like the Tour loop. Add more time if you want to diversify with some loops on the other Mt Bachelor Nordic trails (remember, you must have a season pass or full day pass to ski the middle/lower Mt Bachelor trails). We suggest you start any Ski Your Age journey so that you'll be done in time to join us in the post-Tour festival area (12-2pm) for refreshments and fun. We do ask that you please pre-register for the Tour if you are starting before we open day-of registration.
 
Where: Mt Bachelor Nordic Center. Enter the West Village parking lot at Mt Bachelor (last place you can drive in winter up Cascade Lakes Highway), look immediately to your right when you enter parking lot & you'll see the Nordic Center. On the right side you'll see some tents and decorations -- that's where you'll find the Tour "village" (only exception would be really bad weather, then we'll be inside the Nordic Center downstairs with a basic check-in table).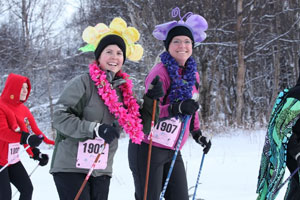 What: 5km (3-ish mile) XC ski or snowshoe. You choose the method and go as fast or slow as you like. The Tour route is very gentle with no long or steep uphill/downhill sections. All ages and abilities are welcome. Remember -- health is a lifetime mission! We do ask that a responsible party ski/snowshoe with kids under the age of 11 (unless the kids in question are speed demons).
 
How to Register: On-line advance registration is strongly preferred. But you can also just sign up at the mountain on Tour morning (cash or check only). On-line registration will remain open until Saturday evening before the event. Then it's only in-person (with cash or check payable to XC Oregon) at the event start on Sunday.
Your event entry includes a trail pass for the UPPER Mt Bachelor Nordic trails both during the Tour and after (just keep your bib on you).
 
Bib pick-up: Please plan to do your bib pick-up on event morning up at Mt Bachelor starting at 9:30am. 
***********************************
FREQUENTLY ASKED QUESTIONS
 
Is this is a race or a tour?

T-O-U-R. You can go as fast or slow as you want, but most folks are very casual. We've created the Tour to be a fun event for literally all abilities and interests. The goal here is improving everyone's winter health and having a lot of fun out on the snow. So if you like going as fast as possible, just put yourself out in front at the ceremonial start so you have a clear route to rip it up. Just be sure to start and stop your own watch as we aren't keeping track of times. Conversely, if want to enjoy the scenery and good company -- plan on going at a nice comfortable touring pace and that's just fine.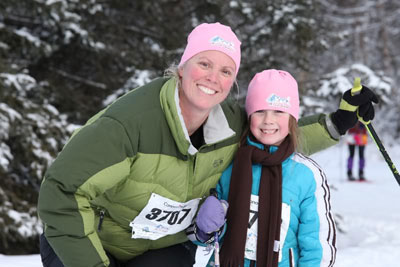 Do I get a finishing time? Are there finisher awards?

No times. No printed results. No awards, Just a lifetime of health in a beautiful winter setting with loads of friends/family around. Since Central Oregon has so many hyper-competitive types, if you want to go really fast we are happy to say that you are the champion of the universe when you come back (seriously, we'll do it). For the Ski Your Age challenge we'll have a posting board for all those that meet the goal and we'll make a big fuss over you on Facebook afterwards (which is, as we all know, kind of a big deal). 
 
How important are costumes?

We welcome and encourage absolutely any and all ensembles -- serious or silly. This is a family crowd so please just keep it "PG rated". We will have special prizes for the most creative outfits as well as groups of skiers that can coordinate costumes. The only advice we'd offer is to be thinking about costumes you can ski or snowshoe safely in plus be aware winter weather does pose some challenges for materials such as paper/cardboard.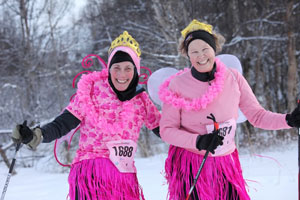 How do skiers and snowshoers "share the trail"?

We urge most of the skiers to get on their way first to keep grooming in good shape. Then we'll have mostly snowshoers. Once you are out on the route it's best that snowshoers hug the sides of the trail wherever possible so that tracks are maintained for skiers. Snowshoers and skiers alike are welcome to Tour with or without poles.
 
How long will this take?

For the whiz-bang racer-types on skis that can't slow down, one loop on this route is super fast (as little as <10 minutes!). But most participants take 30-60 minutes. A few folks might take up to 90 minutes (particularly on snowshoes). Wintery weather can slow things down, but it's always an easy loop and always beautiful up there.
 
Can I do more than one 5km lap?

Yes indeed. For the heavy-breathing overachievers out there, go round like a record baby as many times as you want. This is precisely why we've added the Ski Your Age challenge -- so that those that want more of a challenge can maximize the special grooming that the Tour for the Heart route provides. We do ask that when out on your bonus laps please do not disturb the casual vibe of other participants still on lap one. In other words -- please slow down when you pass folks, give others the right-of-way, smile/say hello, etc.. For those in the party-on-snow mode, we'd prefer you stick to only one lap if takes you over an hour to get around so our volunteers on course can wrap things up in timely fashion.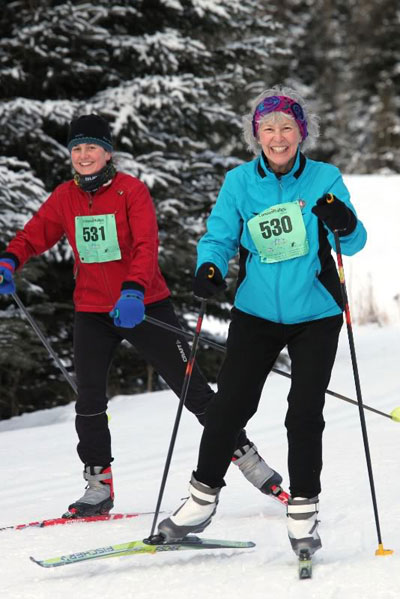 Can I do this with my dog? What about a baby sled/pulk?

Dogs are not allowed in the Tour because the route is using a portion of the Mt Bachelor Nordic trails AND because of safety concerns with other participants. A baby sled would depend on the user and conditions. Use your best discretion to decide if you can safely manage a baby sled with many other participants surrounding you the entire time. Remember you need to take into consideration the safety of your child, yourself, and other participants.
 
What happens if there is bad weather?

Since XC skiing and snowshoeing are winter sports, we anticipate the Tour taking place on-time pretty much no matter what the conditions. The only exception would be if Century Lakes Highway or the Mt Bachelor Ski Area itself had to close (almost never happens). You can get real time weather conditions from the Mt Bachelor website so it's very easy to prepare for whatever we'll see on event morning. The event route itself is very protected, has no avalanche danger, and you will be on or close to plowed or groomed trails/roads at all times so safety should not be an issue in any weather situation. If it ever happens and we have to cancel outright, we'll try to find a make-up date (but no promises). In that extreme situation, 100% of net proceeds will still go to local ski equipment loaner groups so your fees will certainly not be wasted (and in an event cancellation we can issue tax receipts for anyone that would like one).
 
This is a really great idea for a winter event, can I help?

Yes, yes, yes!!! The biggest help for this event is simply recruiting more participants. Co-workers, friends, daughters, your mother, aunts, cousins, neighbors, whatever. The bigger the Tour, the bigger the impact for winter health in our community! Remember -- Net proceeds benefit MBSEF and OISRAN efforts to provide affordable loaner gear for youth and junior skiers.