Family Winter Fun Tour
Group Challenge
Note: We are going to hold off doing the Group Challenge in 2022, but look for this to return in 2023!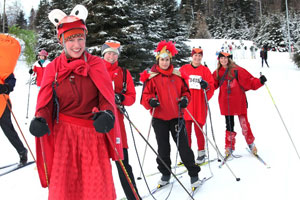 10 or more participants representing a single business, school, book club, yoga class, or absolutely any other organization (non-profit, goofy fun, super serious, or otherwise) will be be put into a drawing for special Group prize bags filled with neat stuff.
It's super easy to set up a Group and a fantastic way to share a fun couple hours out on the snow with your friends, family, co-workers, whatever gang you can urge to come up. It's for a great cause, it's wonderful exercise, and there's yummy treats. So begging, bribing, etc. are all encouraged to get people to come on up! :-)
To make sure your group is officially part of the Group Challenge, just follow the instructions on the registration page.
Anyone can represent any group they want, but you have to pick only one group. Everyone in your group does NOT have to actually turn up on event day, but your group does need at least 10 registrations to officially be in the hunt for the fun drawing prizes. You can have all participants sign up individually OR you can can the super simple group registration instructions on the registration page.